Even if 99% of businesses are closed during COVID-19 (also known as the Coronavirus), we are open. However, our stock is more limited than ever. 

Uberpet bring you a revolutionary back pack for your catty and doggy Now you can take your precious doggy and catty wherever your adventures take you. Now your pet will always be part of the action, even when he can't keep up, because this innovative design allows him to sit comfortably on your back with his head out for uninhibited visibility and engagement. It features easy-pull zippers, adjustable side pockets for all your essentials, and a collar hookup D-ring for added safety. Thanks to the thick bottom rest pad, your dog and cat  can sit comfortably while he rides on your comfy back, while the slotted shoulder straps keep you cool, comfortable, and fashionable as well.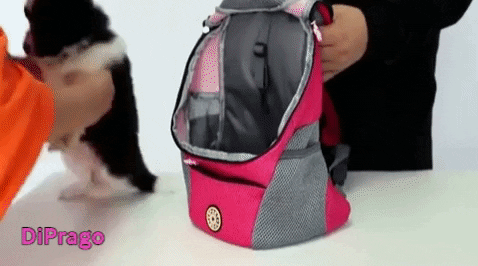 Inside hook design connects to your pet collar. This pet backpack also has a zipper and drawstring to provide additional safety for your lovable pet.
ONE OF A KIND PET CARRIER:
Our Puppy Backpack is a wonderful and convenient carrier when you want to take your pet with you, while keeping your hands free. Keep scared pets safe and comfortable! This pet carrier is worth every penny! 
Size
Weight Capacity*

Small

 

1 lbs - 10 lbs

Large

11 lbs - 25 lbs
BACKPACK & FRONT PACK - Smart Bag dog carrier achieves your hands-free and makes it easier to take care of your pet during hiking, travel, cycling and walking etc, whether you wear it on the front or the back
OPEN TOP SAFETY DESIGN - This pet backpack lets your pet feel more comfortable and safe as it is specially designed for the pets' legs out and tail out 
WATERPROOF & DURABLE - This dog backpack is made of durable, lightweight and breathable mesh and polyester fabric, which allows much more air circulation
ADJUSTABLE & MULTIPLE SIZES - The adjustable straps will reduce pressure on your shoulders and keep your pet close to your heart. Please measure your pet and choose the right size according to our size description
TRAVEL WITH YOUR PETS - This dog backpack carrier is lightweight and portable, you can use it to carry small dogs or cats for biking, hiking, camping, outdoor walking or meeting friends
 SAY GOODBYE TO FORCING DOG WALKS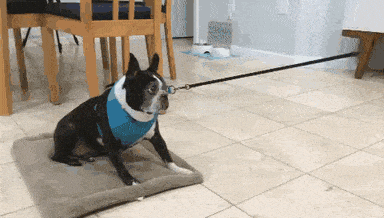 Lets face it! Pets need fresh air and often times they don't get the air they need, which can cause behavior issues, anxiety and stress. Eliminate all of these worries with our one of kind Dog Carrier Backpack. We guarantee your pet will love this travel backpack! If not we will give you a refund!
30 Day Trial - Love It Or Leave It
You have 30 days to fall in love with your Puppy Bag. Not loving it? Just send us a message and we will immediately organize your refund. That's how confident we are that you'll love it.
Estimated delivery time 14-30 days
Due to large success on social networks and current COVID-19 conditions, we only have 157 left in stock